Bandung is both the name of a regency in the island of Java and it's also the name of a city in that same region. Bandung regency is in the province of West Java, and Bandung city is the capital of that province. If it's getting a bit confusing, think of provinces like states and regencies like counties.
Bandung city is a 2.5 to 4-hour drive from Jakarta, the capital of Indonesia and the two cities share a rivalry similar to Chicago and New York or Melbourne and Sydney and the two cities have unique qualities that appeal to their fans. Jakarta is more built-up, more densely populated, and more business-like. Bandung city has more of an artistic bent to it, isn't as congested with traffic, and has a more laid-back feel to it. Bonus; Bandung is cooler in temperature than Jakarta, making it the winner in my city face-off between Jakarta and Bandung.
This trip for me started in Jakarta, at a cafe, The Caffeine Dispensary, which is owned by a group of three friends. The cafe hosted a class on coffee brewing and I was the instructor. The class coincided with the first anniversary of the cafe, so I got to celebrate with them their first year of business. The guys at the cafe bought a lot of beef, pork, chicken, and veggies and set up a propane grill in front of the cafe and after closing, they grilled their asses off and served their close friends who have helped out with the cafe over the course of the year. It was great to see this small, tight-knit group of friends honor and thank each other for their support and friendship!
The morning after the party, at a very dark and quiet 5am the car picked me up at my hotel and we collected the rest of the gang for the long car ride to Bandung. Bandung is only 137 kilometers from Jakarta, but with the horrendous traffic of Jakarta, it can easily take up to four hours to drive there, hence our very early departure to beat the traffic (but also to have as much time as possible in the coffeelands).
Land Ownership VS Stewardship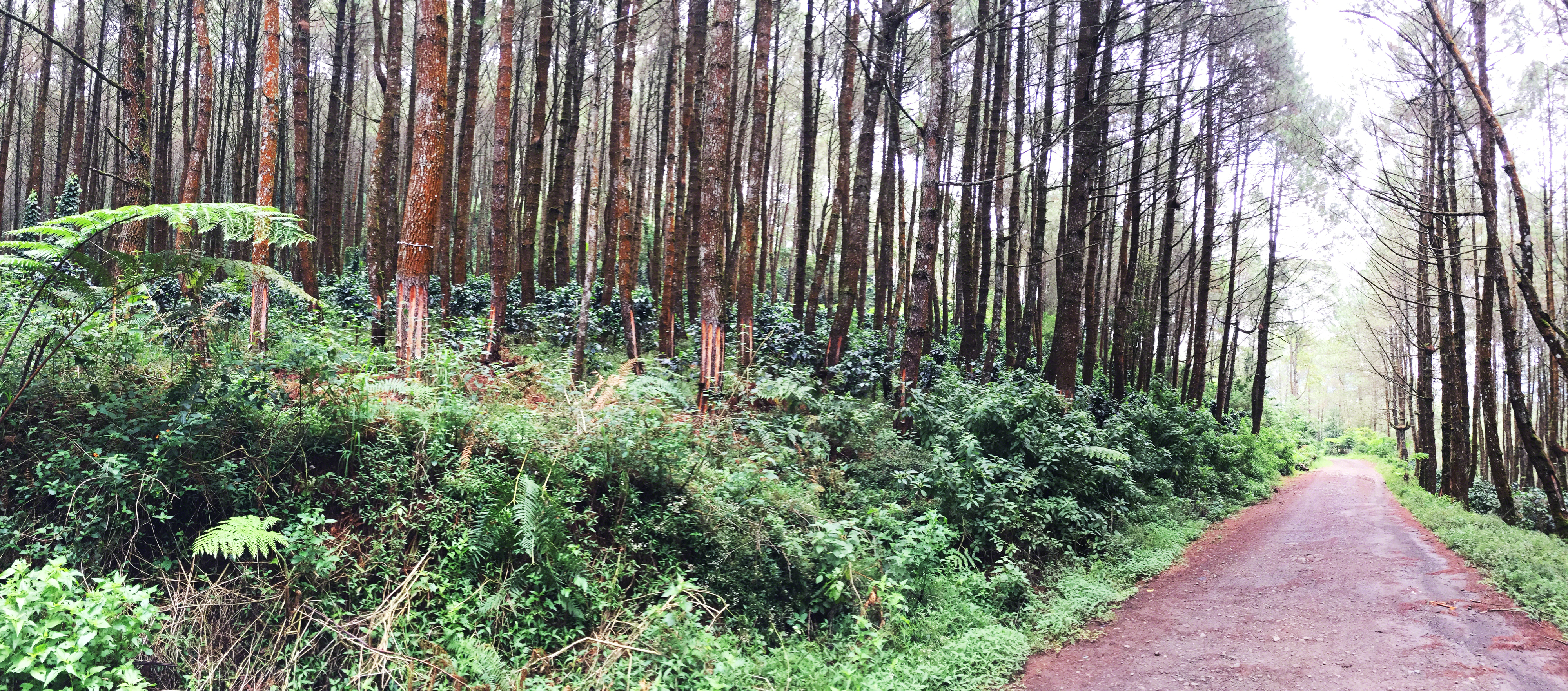 It is quite common in the area for coffee farms to be situated on government-owned land. This farm is situated in an area where latex trees are also cultivated. The tall latex trees provide shade as well as a source of raw latex that can be refined into rubber.
The farmers told me that every year they have to pay the government 15% of their yield as profit-sharing and many times, corrupt government officials will increase that fee to as much as 20% and will even demand a high amount during low-production years.
The good news is that coffee is planted in national parks, which are often gated and guarded by agents of the Ministry of Agriculture. Theft of cherries, something that can be an issue in Bali, is not a problem for the farms we visited in West Java.
Coffee Leaf Rust Very Prevalent
There is a fungal plant disease that is impacting coffee production all over the world and its name is Coffee Leaf Rust (or CLR, or simply rust). The disease primarily damages the leaves of the tree, which impacts its ability to photosynthesize, which eventually leads to another condition called dieback, in which the plant dies from the periphery, in-wards. CLR spreads easily and rapidly and can eventually destroy large portions of crops if left unchecked. Fortunately, the farmers of West Java have access to a fungicide they can use to help control the spread of CLR.
Our first stop was a farmer's home (Yosep), where he has a small greenhouse (locally called a rumah plastic) and also a coffee tree nursery. A large portion of Yosep's seedlings and saplings in the nursery already showed significant signs of CLR (locally called karat dahun). These trees will be transplanted likely with the fungal spores still attached and active, further spreading the disease and increasing the need for application of agrochemicals to control the disease. The better solution would be expensive and unappealing to the farmer: destroy all seedlings and saplings affected by CLR and only move healthy young plants in an attempt to control the spread of CLR.
We saw evidence of CLR on every plot we visited…
Furthermore, these farmers have very little diversity in the breeds of planted coffee trees and the primary breed of tree they have planted is susceptible to rust.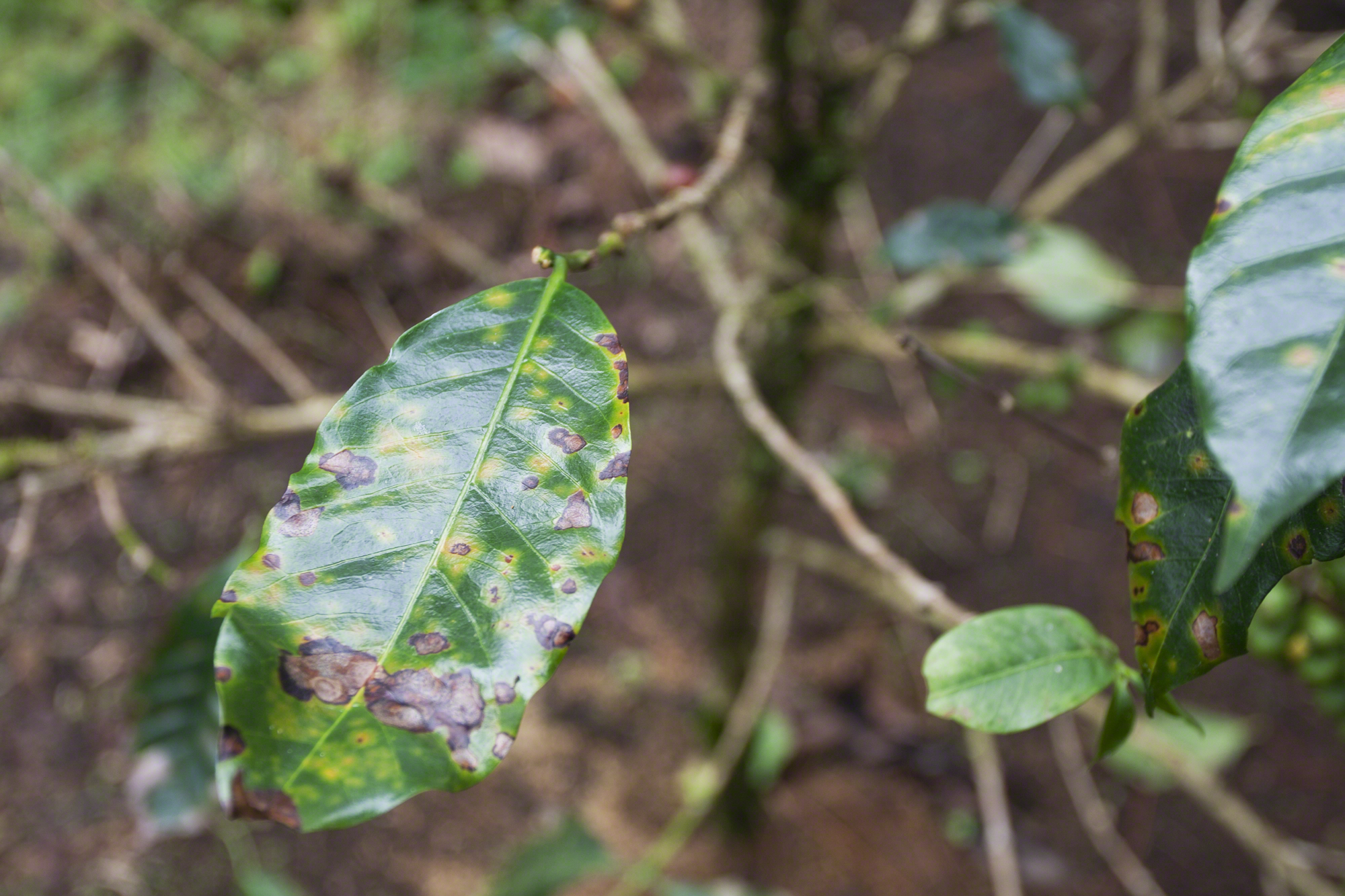 Good Harvesting and Processing Practices
I saw evidence of very good harvesting practices, i.e. red, ripe cherries in pickers buckets. When I asked about this, it was explained to me that labor is a problem for these farmers, so they and their families harvest the coffee, which means they are directly incentivized to pick the highest quality cherries because the local mill pays extra for red cherries (15% more). This means these farmers have more skin in the game and it shows in the quality of their harvest. Cases like this reinforce the notion that paying premiums for quailty actually works.
The going cost for cherries is right in line with the cost in Bali: IDR 6,000 for mixed quality or IDR 7,000 for red. I don't know what the exact cut-off is to earn IDR 7,000 or how the cherries are inspected, though I do hope to visit mills on the next trip to see how this is achieved.
It wasn't just at the harvest point that I saw a desire for quality, either. At Yosep's house, I could see that he was experimenting with different processing methods that produce a different character in the final cup of coffee—processes such as the honey process and natural process. While the natural process is the oldest process, there are steps that can be taken to ensure it's done so with quality as the intended, end-result—steps such as using raised bed, etc. This group of farmers is pursuing quality at many steps of the processing of coffee.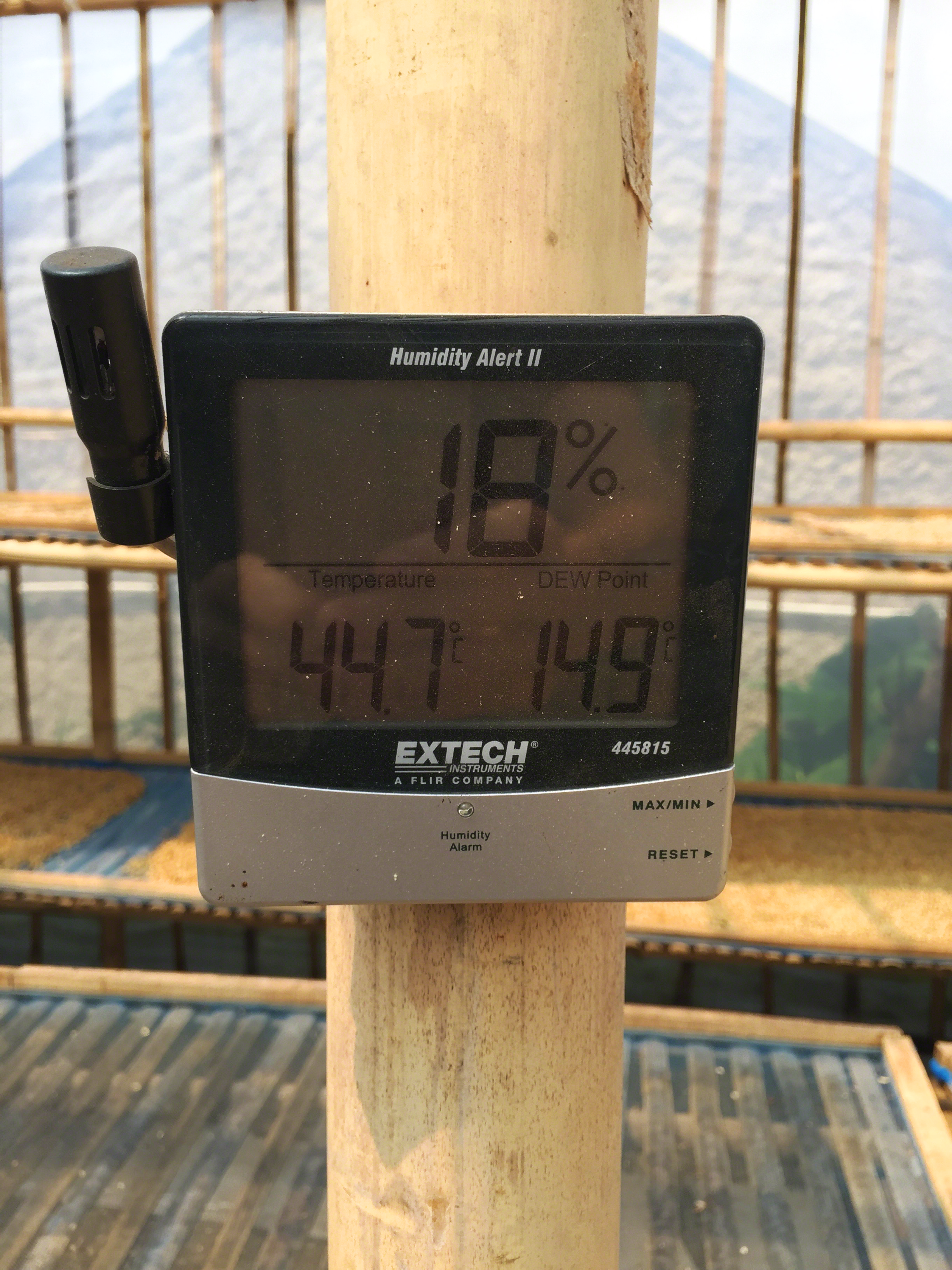 The Challenges of Sun and Water
The farmers in this region face a difficult combination of too little sun and not enough water. They need loads of sun in order to dry their coffee, especially the natural processed coffees and too often they get clouds and rain when they need to be drying coffee. Greenhouses help with this but for the natural processed coffees, this often isn't enough.
Near where the coffee is grown, there is also no reliable source of water of the quantity they need to set up a washing station for their coffee. So all their cherries have to be picked in one location and transported to the washing station that is a couple of hours away. That time adds to the risk of over-fermentation as the cherries start to ferment in their own juices in an uncontrolled and inconsistent manner, leading to an inconsistent product.
Final Thoughts
It's refreshing to find a group of farmers actively exploring and pursuing quality. Improved quality often leads to improved marketability and eventually improved returns and too often it is difficult to convince farmers that quality is worth the extra work and expense—and quality doesn't always benefit farmers as much as we'd like it to, making the argument even harder to make. But this group sees value in it now and that is great to witness! Hopefully, things work out for them in the near future and they manage to develop the right relationships with buyers who also value quality.
---